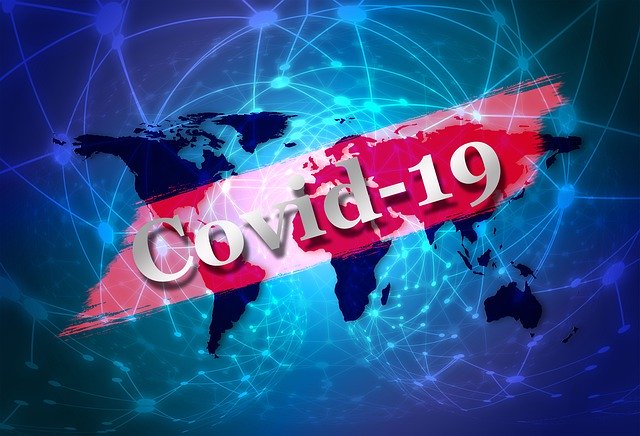 UPDATE 26th November 2020
Dear Member
As you may have seen today, the Government has announced that the East Sussex area will be in Tier 2. This sadly means the Club has to remain closed. With this news and Christmas not far away, we will not now be open until the New Year. This will also depend on which Tier we are at that time, we will email with any details as soon as we have them.
Could we please ask that, if any of your bowling friends do not have access to an e-mail, would you kindly phone them on our behalf. Thank you.
As you can imagine, we are devastated at this news and are so disappointed that we cannot open.
However, on a positive point, by January we hope to have funding in place for a Mechanical Ventilation System with heat recovery to be fitted. This will be over the rink area, and will include a new heater which will mean the doors can stay closed whilst allowing the correct amount of air ventilation. No more bowling in jumpers and coats!
Behind the scenes we have all been working very hard (especially Ray) to raise more funds towards the roof. We will hopefully be able to give you more details in our next news letter.
We would like to take this opportunity to wish you all a safe, healthy and very merry Christmas.
Looking forward to seeing you in 2021.
With very best wishes
The Board
——————————————————————————————————-
UPDATE 2nd November 2020
Due to the National lockdown we are closed from Thursday 5/11/20 until further notice.
The Board and staff hope that you all stay well and we will keep you all updated as to when we can re-open.
——————————————————————————————————-
UPDATE 12th October 2020
TUESDAY EVENING BOWLING
We are planning to have bowling on Tuesday evenings from
20 OCTOBER    6.30pm – 8.00pm
If you wish to play  you MUST pre-book your place, we do not permit club members to come to the club without pre-booking their rink.  If you are coming on your own we can put you on a rink with other members.
PLEASE NOTE:  The session will only go ahead if we have enough members who wish to play,  and it will be at the clubs discretion as to whether we think it is viable to run this session, and if there is not enough take up,  then we will notify anyone who has pre-booked that it will be cancelled for that evening.
We appreciate that this is very restrictive,  but in the current climate we have to be accountable for everyone who comes to the club,  so the strict guidelines must be adhered to.
Please call Traci or Kim at reception on 01273 514664
——————————————————————————————————-
UPDATE 26th September 2020
Following Tuesdays statement from the EIBA, we are delighted to confirm that we can continue to stay open.
We are following all of the COVID-19 secure protocols, based on the EIBA's 'Returning to Indoor Bowls' guidance and can therefore,
continue to provide organised bowls sessions for our Members.
The EIBA's full statement can be viewed on their website.
We would like to say a big 'Thank you' to all of you that have returned and are supporting us in keeping Our Club a friendly COVID secure
venue.
If you have not returned yet, but would like to see the measures we have put in place, please phone Traci or Kim to arrange a time.
We would love to see you, but please do not just pop in as we need to be very strict with the number of Members in the building
at this time.
——————————————————————————————————-
UPDATE 7th September 2020
Check out the dates for our Winter Leagues
———————————————————————————————————
UPDATE 27th August 2020
Please see below the newly updated guidelines for Indoor Bowling from the EIBA
Face Coverings 
The Government on Friday 21st August 2020 made the wearing of a face covering mandatory in Indoor Sports Stadiums. As a result, any person entering an Indoor Bowls Club will need to wear a face covering at all times, until they leave the premises.
Once in the Club individuals would only be permitted to remove the face covering for the following actions: –
• When on the rink bowling with 2 metre social distancing in place, due to partaking in exercise.
• Due to a physical or mental illness or impairment, or disability
If you are using the social distancing of 1 metre, rather than 2 metre, then the players need to wear a face covering to provide a mitigating action to reduce the risk of transmission.
Please remember that face coverings do not replace the need to social distance and maintain continued washing and or sanitising of hands.
Missed Bowling?
Don't forget that we are open everyday for pre-booking with up to 4 on a rink.
Hoping to see you all soon
Best wishes
Traci
——————————————————————————————————-
UPDATE 4th August 2020
Dear All,
We are delighted to announce that the club will be reopening from Monday 10th August.
If you wish to bowl on either Monday 10th or Tuesday 11th please phone the club number to book by Friday 7th, from Monday 10th the phone will be manned mornings only.
Initially there will be two 11/2 hour sessions starting at 9.30am or 11.30am. If, on any particular day there are no bookings made the club will not open. So please make sure you book ahead. Because we have to strictly control how many people are in the building
Please do not turn up without a booking.
See the document below with the updated information from the Board.
Looking forward to seeing you all back bowling very soon.
Best wishes
Traci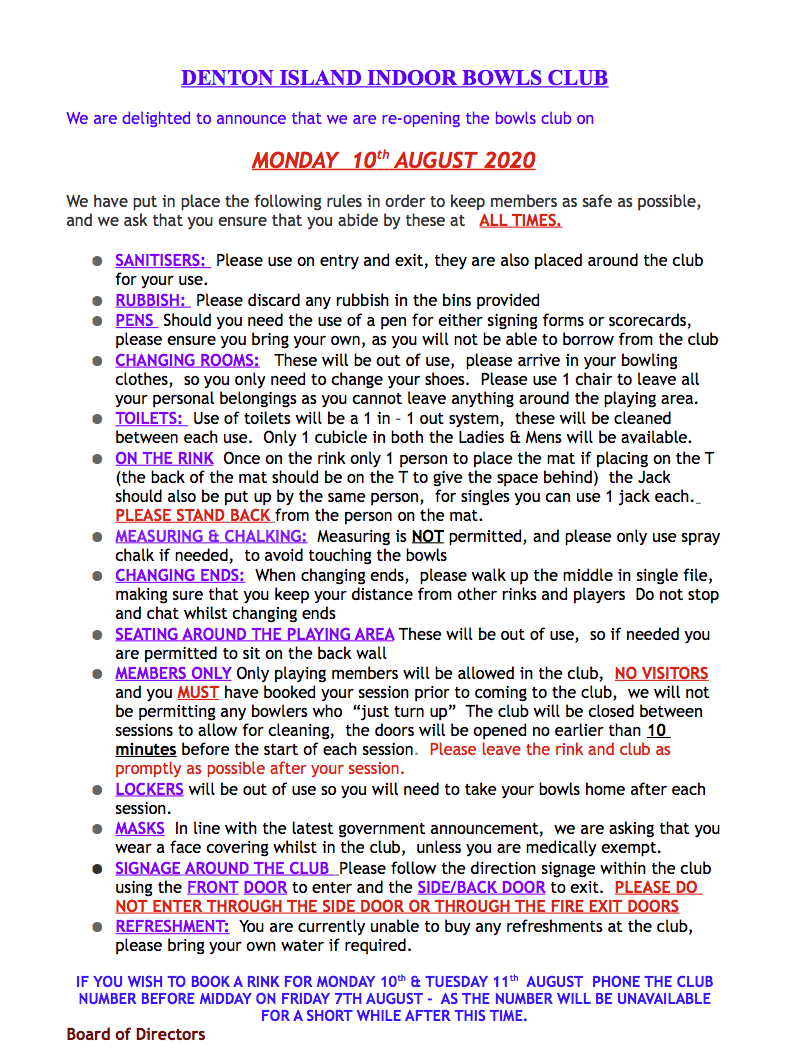 ——————————————————————————————————-
UPDATE 27th JULY 2020
The club will be able to offer appointments for bowls collection this Thursday 30th July from 9.30am until 1.00pm and Sunday 2nd August 9.30am -1.00pm.
Please phone the club number below to book an appointment.
The infra red thermometer that we will be using is non-invasive and can be done from a safe distance.
Please do not just turn up as we have to allow for strict social distancing.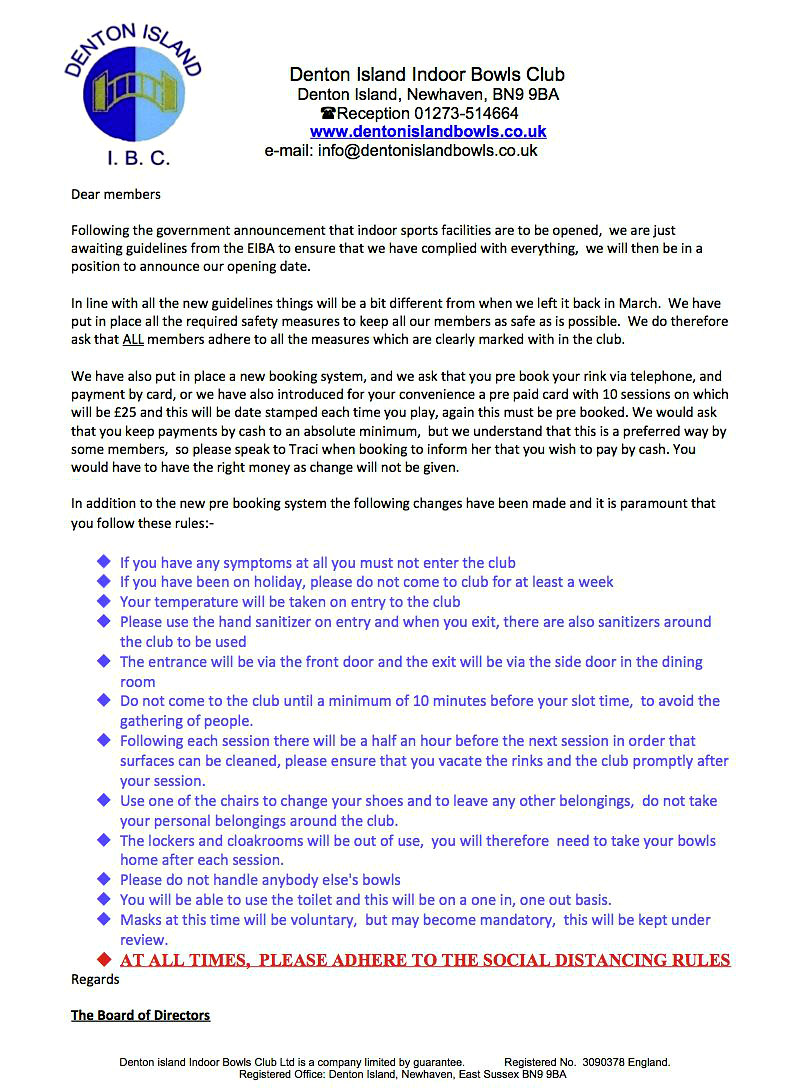 ——————————————————————————————————-
UPDATE 29th JUNE 2020
Dear Members
I hope you are all managing to keep well during these trying times.
This is just an update to let you know how things are going at the club.
We have been working hard behind the scenes to prepare for when we can
reopen.
There will be lots of changes from how it operated before, most
of which we are still working on. With the latest information from Boris
we still haven't been given the green light and feel there are a lot of
unanswered questions on making bowling safe for you all.
We are waiting or a visit from our Health and Safety advisers on the best way to
proceed. Also we are looking at the Bowls England guide lines. When we
have obtained all the necessary information and guidelines, this will
enable us to make informed decisions going forward.
The safety of all our members are paramount. The board will keep you updated on any
decisions that are made.
We would also like to say a special thanks to Traci, Kim and Nigel for
keeping everything going.
Keep Safe
Kim Ransley
Jean Dickson
Ann White
Christine Page
Ray Boakes
———————————
UPDATE 24th APRIL 2020
I know that some of you have been concerned about the finances of the club, I just want to let you all know that we have now received the £25,000 Business Cessation Grant promised by the Government.
Other financial help had also been obtained from Lewes District Council with a rates holiday and we have taken advantage of the Government Furlough scheme too. This is going to go a long way in keeping the club in great shape for when we are able to open the doors again.
All but one of the Private functions that had been booked in for the from March to the end of June have either been booked in for later in the year or in the case of the weddings have been deferred to next Summer. The roof funds raised by you remain untouched and will be in place for when we are able to start the renovations to the roof in the hopefully not too distant future.
Looking forward to seeing you all soon. Keep well.
Traci
====================
UPDATE 16th APRIL 2020
I have had a number of you contact me regarding the health of the Club.
Please don't worry, the Club is managing fine, we are looking after the building and Kim and Nigel are doing a brilliant job of keeping the shrubs and weeds under control and making the place look very smart.
The Board and I are beavering away in the background to carry on with the process of the roof funding and I have been in touch with the Council and have arranged a payment holiday on the business rates. We have reduced as many of the overheads as possible and we are in process of applying for the Government business interruption grant. The private functions that were booked in for the summer have been rearranged for later in the year, so as long as this doesn't go on too long, we should weather this storm.
Obviously this is still early days in this awful pandemic and we are watching a fast changing situation very closely, but please be assured, we will be opening Denton Island Bowls Club as so as we are able too.
Best wishes to you all
Keep well
Traci
You are all aware of the Government directive announced on the
16th March which left us no choice but to close the club from 1 pm today.
This action is sadly for the foreseeable future but you all will be able to contact me and the club using the club number
01273 514664 between 9 am – 5.00 pm everyday.
If I don't answer right away please leave a message and I will contact you as soon as I can.
For further advice and information on Coronavirus please see the NHS guidelines on the link below.
https://www.nhs.uk/conditions/coronavirus-covid-19/
Club & Functions Manager
Denton Island Bowls Club